Public Cams
To watch Public Cams just open game client.
Then login to account "cams",
with password `page number`

CTRL + ARROW UP - speed x2
CTRL + ARROW DOWN - speed x0.5
CTRL + ARROW LEFT - rewind backward 15 seconds
CTRL + ARROW RIGHT - rewind forward 15 seconds
/goto XXX - rewind cam to second XXX

Our server record cams for all players online.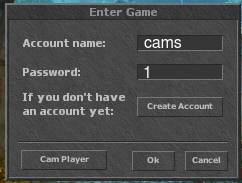 ID
Name
Description
Date
Duration
90FC
Yoshua
75 Knight, Askara RPG
No description
2022-06-23 10:31:11
00:46:21
There are
1
public cams in our database. Want more?
SHARE YOURS!